Établie par un traité pour protéger nos pêches
Le Canada et les États-Unis se partagent les pêches des Grands Lacs, un trésor binational dont la valeur annuelle s'élève, pour les deux nations, à plus de 7 milliards de dollars. Ces pêches attirent des millions de pêcheurs à la ligne, soutiennent une pêche commerciale et par bateaux affrétés d'une grande valeur, sont un pilier de la culture autochtone et sont au cœur de la santé de l'environnement.
Sous le régime de la Convention de 1954 sur les pêcheries des Grands Lacs, la Commission des pêcheries des Grands Lacs facilite aujourd'hui une bonne coopération transfrontalière afin de garantir que les deux nations travaillent de concert pour améliorer et préserver les pêches.
Bien que les Grands Lacs relèvent de la compétence de deux nations, de huit États, d'une province et de plusieurs tribus, les ressources halieutiques ne se bornent pas aux frontières politiques. Ainsi, depuis plusieurs décennies, le Canada et les États-Unis ont reconnu qu'une coopération continue et binationale était la meilleure façon de gérer et de maintenir les pêches.
Notons qu'un tel mécanisme de collaboration transfrontalière n'a pas toujours été en vigueur. En raison d'une mauvaise compréhension de la façon de travailler ensemble, et puisque les États et la province n'étaient pas disposés à céder leur pouvoir de gestion des pêches à un organe binational, les efforts visant à établir une Commission internationale des pêcheries des Grands Lacs ont échoué à plusieurs reprises entre la fin des années 1800 et 1954.
La lutte contre la lamproie marine exige la coopération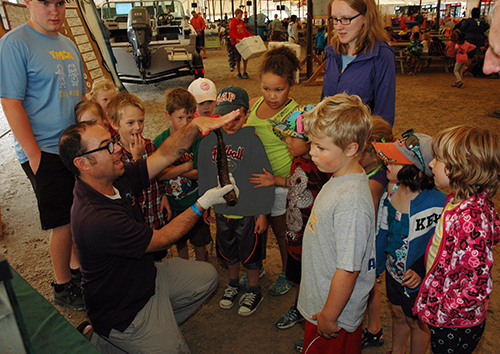 Devant le pouvoir destructeur de la lamproie marine, le Canada et les États-Unis se devaient d'établir une collaboration fructueuse. Cette espèce, qui avait envahi les Grands Lacs supérieurs au début des années 1920, avait, dès les années 1950, gravement décimé de précieux stocks de poissons des Grands Lacs, en particulier le corégone et le touladi (voir la fiche 4). D'autres facteurs, dont la destruction de l'habitat, la mauvaise qualité de l'eau et la surpêche avaient aussi contribué à la décimation de ces pêches au milieu du siècle. Il fallait agir au plus haut niveau pour éviter la destruction complète des ressources halieutiques des Grands Lacs.
Au sujet de la Commission
La Convention de 1954 sur les pêcheries des Grands Lacs, qui a créé la Commission des pêcheries des Grands Lacs, est née d'un réel besoin de travailler ensemble au-delà des frontières, non seulement pour lutter contre la lamproie marine, mais aussi pour promouvoir la science et établir des relations de travail entre les intervenants. La Commission se compose de quatre commissaires canadiens nommés par le Conseil privé et de quatre commissaires américains (plus un suppléant) nommés par le président. Les commissaires sont appuyés par un secrétariat, situé à Ann Arbor, au Michigan.
En vertu de la Convention, la Commission exerce cinq fonctions principales:
La Convention comprend aussi une clause exigeant que la Commission établisse des « accords de collaboration » entre les gouvernements en vue d'assurer une gestion conjointe des pêches. La Commission est ainsi devenue un point central de la gestion coopérative des pêches dans les Grands Lacs, tout en étant précisément conçue pour ne pas empiéter sur le pouvoir de gestion des États et de la province.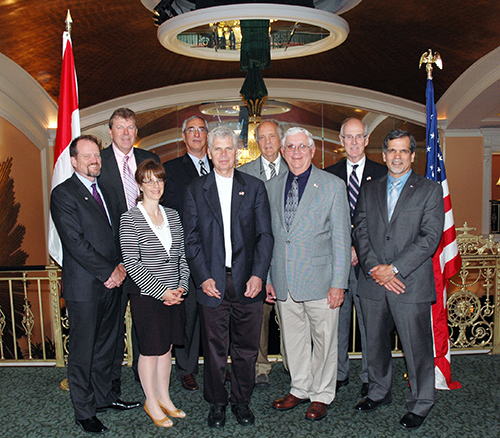 Le Commission formule son programme en fonction des avis de plusieurs comités de gestion et de recherche composés de scientifiques, de gestionnaires des pêches et d'universitaires. De surcroît, le Commission obtient les avis du Comité des conseillers, composé de citoyens canadiens et américains. La lutte contre la lamproie marine est menée en partenariat avec le U.S. Fish and Wildlife Service, Pêches et Océans Canada et le U.S. Army Corps of Engineers. La recherche est menée en collaboration avec le U.S. Geological Survey, les autorités d'État, provinciales et autochtones et avec les universités.
Depuis 1954, la Commission des pêcheries des Grands Lacs assure une relation de travail solide et continue entre le Canada et les États-Unis, dont profitent les pêches et les millions de citoyens qui dépendent de cette ressource pour se nourrir, se divertir et gagner leur vie. Aujourd'hui, le régime de gestion des Grands Lacs est considéré comme le modèle d'une coopération transfrontalière réussie.